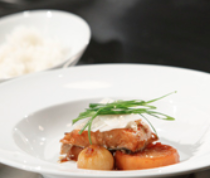 Ingredients
Edit
4-5 bone-in black cod steaks (fillets can be substituted if bone-in can't be found)
1-2 daikon radishes (2 1/2" diameter), peeled and cut into 1/2" cylinders
1 large onion, sliced
8 stems green onion, 3 sliced into long strips, 3 finely sliced on the bias, and 2 chopped
2-3 cloves garlic, minced
1/2 jalapeno, sliced
1 1/2 teaspoons ginger, grated or minced
1/2-3/4 tablespoon, Korean chili flakes
1 tablespoon Korean chili paste
1 tablespoon fish sauce
1/3 cup soy sauce
1/2 cup water (fish was a bit bland; either marinate before cooking or reduce water?)
1/3 cup Korean corn syrup
2-4 tablespoons sake or soju
salt and pepper
3/4 cup Korean rice cake, tube shape

*

1/4 cup enoki mushroom, cleaned

*

1 bunch chrysanthemum

*

sesame seeds, toasted
2 1/4 cup short grain rice
Directions
Edit
Peel and slice daikon. Chop onions, garlic and jalepeno. Grate ginger. Slice and chop green onions.

Place daikon cylinders into a large saute pan, creating one flat layer of daikon.

Place cod steaks on top of the daikon.

Assemble sauce by mixing onion, chopped green onion, garlic, ginger, jalapeno, Korean chili flakes, Korean chili paste, fish sauce, soy sauce, water and Korean corn syrup. Season as necessary with salt and pepper.

Pour sauce over cod and radishes. Top with sliced green onions and cover pan. Bring to a boil.

Add sake/soju and reduce heat to medium low for 20 minutes. Add rice cakes.

Plate on a dish, layering daikon, rice cake and then cod. Top with sliced green onions, enoki mushrooms, chrysanthemum greens and toasted sesame seeds.
Optional, highly recommended
Ad blocker interference detected!
Wikia is a free-to-use site that makes money from advertising. We have a modified experience for viewers using ad blockers

Wikia is not accessible if you've made further modifications. Remove the custom ad blocker rule(s) and the page will load as expected.