Jordan Roots

Information

Home state
Minneapolis, Minnesota
Occupation
Delivery Driver
Season
4

Statistics

Place
7th
Challenges Won
2
Jordan Roots is a homecook from Minneapolis, Minnesota, and the 7th placer of MasterChef Season 4 after failing to impress the judges in the Elimination Test with the Quail that was given to him by the Mystery Box Winner Krissi Biasiello in Episode 19.
Progression
Edit
Auditions
Edit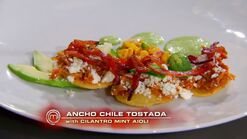 Jordan presented his dish to Gordon Ramsay, Graham Elliot, and Joe Bastianich. He prepared Ancho Chile Tostada with Cilantro Mint Aioli. After the judges tasted and evaluated the dish, he gained the approvals of all the three judges, with Graham noting that the dish was exploding with flavor and that he was disappointed to see that there wasn't a plate for each of them. He then received a white apron from Joe, moving him to the next stage of the competition.
 Contestant relationships
Edit
Sasha Foxx
Edit
Adriana Guillen
Edit
Malcolm Green
Edit
Kathy Prieto
Edit
Howard Simpson
Edit
Bime Cruz
Edit
Beth Kirby
Edit
Jonny Blanchard
Edit
Lynn Chyi
Edit
Savannah Sturges
Edit
Bethy Rossos
Edit
Eddie Jackson
Edit
Bri Kozior
Edit
James Nelson
Edit
Krissi Biasiello
Edit
Jessie Lysiak
Edit
Natasha Crnjac
Edit
Luca Manfè 
Edit