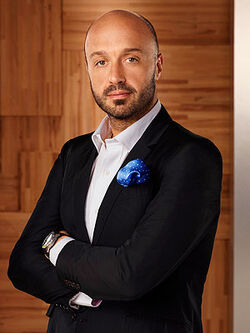 Joseph Bastanich (born September 17, 1968) is an Masterchef judge. He is also an restraunteur, and co-owns resteraunts in New York, Los Angeles, Las Vegas, Singapore and Hong Kong. He currently lives in Greenwich, Connecticut.
Early Life
Edit
Joe Bastanich was born to Linda and Felice Bastanich in New York. He was raised working in his parent's restrauntt Felidia in Manhattan, New York. He attended Fordham Preparatory School, before going to Boston College, where he studied finance.
Ad blocker interference detected!
Wikia is a free-to-use site that makes money from advertising. We have a modified experience for viewers using ad blockers

Wikia is not accessible if you've made further modifications. Remove the custom ad blocker rule(s) and the page will load as expected.